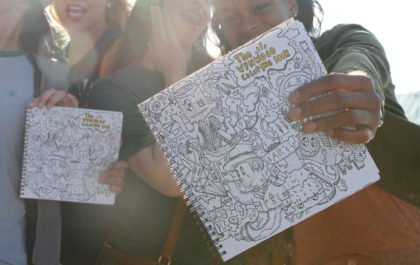 How the Wynwood Coloring Book came to life
Diego Orlandini, 4 years ago
0
5 min

read
4526
Originally published by The New Tropic here.
American adults are going crazy for coloring books right now.
Geared towards getting grown-ups to tune out of their busy lives with a piece of their childhood, they've made a serious comeback with themes like sex positions and swear words. And a salesman-turned-yogi has now brought Miami its own.
When 30-year-old Diego Orlandini moved here after backpacking across Europe and Asia, he wanted a way to connect with his new surroundings. A seriously stressed out couple months trying to figure out how to do that brought him to coloring books to decompress — and a lot of love for the Wynwood artists gave him the idea of commemorating their work with a coloring book in honor of his favorite hood in his adopted city.
Zen and the Art of Coloring Books
Diego, who moved to Orlando from Peru with his mother when he was 18, graduated with honors from Rollins College with what he called a "useless" degree in finance. He began a brief career in door-to-door sales, but found it unfulfilling, so he sold his belongings and set out across Europe, Cambodia, and India. He learned tantra in India, swam with sharks, prayed in stunning temples, and learned meditation from monks. And he met a high school student who gave him a new mission in life.Live like you live here
The way he tells it, he was sitting around in Cambodia working as a teacher and feeling depressed because he couldn't stop thinking of how much he had – an education, an American passport, everything he could need – compared to the people around him. A 17-year-old female student changed his view.
"It was noon and we were waiting for class to start. She comes over and says. "Good morning teachers! I am here because I need help with my homework." And we just looked at her said, "We didn't assign any homework." She replied, "Yes, I know, this is the homework I assigned myself." And she did that every day. She assigned herself homework everyday. … She decided to do the best with what she had and excel at it."
Her grit left him determined to "learn as fast as I can, as best I can, in order to produce something that would cause a trickle effect… something that people love and would want to be part of," he said.
Eat, Pray, Color
Orlandini came to Miami in 2013 because his mother had relocated here and needed help with her window treatment business. He discovered Wynwood and became enamored with the vibrant colors, the culture, and the art. He wanted to know more about the artists, become a part of the community, and give back.
"So I came to Miami and thought, 'What would be the most practical thing I could do to help others the quickest?" he explains. "And I thought, 'I could write a book but it would be a long, long way.'
His determination to write the book he jokingly calls his "Eat, Pray, Love" and desire to help his family led to some stressful times. His ex-girlfriend sent him a coloring book to help him relax.
"I was killing myself. I was learning e-commerce, helping my mom's business and writing my book," he explains. "She sent the coloring book to help me relax. And for a long time I ignored it.
"Finally, I picked it up and started coloring the first page. It actually stressed me out more because I wasn't working on what I thought I should be working on. Then one day I couldn't take it anymore. I shut off my computer and started coloring. By the end of the first page I began to feel relaxed. It worked. I started coloring a few more pages and I enjoyed it. But I was coloring bicycles, trees, plants… nothing that truly inspired me. Then I thought about Wynwood. Wynwood is amazing. So I thought, how cool would it be to color the art!"
In 2015, The Wynwood Coloring Book was born.
Building community
Diego chose a mural at random and photographed it. With the help of a friend, he "picturized" it, turning the photo into a black and white drawing. They created a demo right there in his kitchen.
Next he reached out to artists to see if they would be interested in being included. Miami-based HGAB Magazine jumped on board to assist with marketing and promotion. In less than a year, a 64 page coloring book was finished, featuring some of the best local and internationally renowned artists working in Miami.
Flipping through the coloring book is like recognizing old friends. Artists like Luis Valle, Jenny Perez, Diana Contreras, and GG, not just artists but recognizable, beloved faces in the community – jump off the page.
"My intention was to build a community behind it, of people who love the art, love Wynwood, and love coloring. The most important part of the book is in the back. It's a directory that tells you about the artist, where to find them and how to follow their work," Orlandini said.
Coloring inside the lines
The Wynwood Coloring Book is a lot of things. It's a tool for mindfulness, to help people take a break from the hustle and remember a simpler time. It's a souvenir for visitors who want to bring home a part of this place. And it's a time capsule, capturing Wynwood at a pivotal moment in its young life, preserving today's art long after it is painted over to make way for a new mural. It also lets you be part of the work, regardless of your level of artistic skill.
"I am honored that I could be an ambassador of Wynwood. It is such a special place," says Orlandini. "The most rewarding part for me is that the artists are proud to be part of the book. It's so humbling. People email me about it and they say they can see how much love we put into this. That, to me, is invaluable. They are not going to see the hours we put into it. They are not going to see the doubts, the frustration. But they know it was done with the intention of creating something people love and are proud of. That means the world to me."
As for Diego's own coloring technique, he laughs and tells me, "I've always had difficulty coloring inside the lines."
Related posts